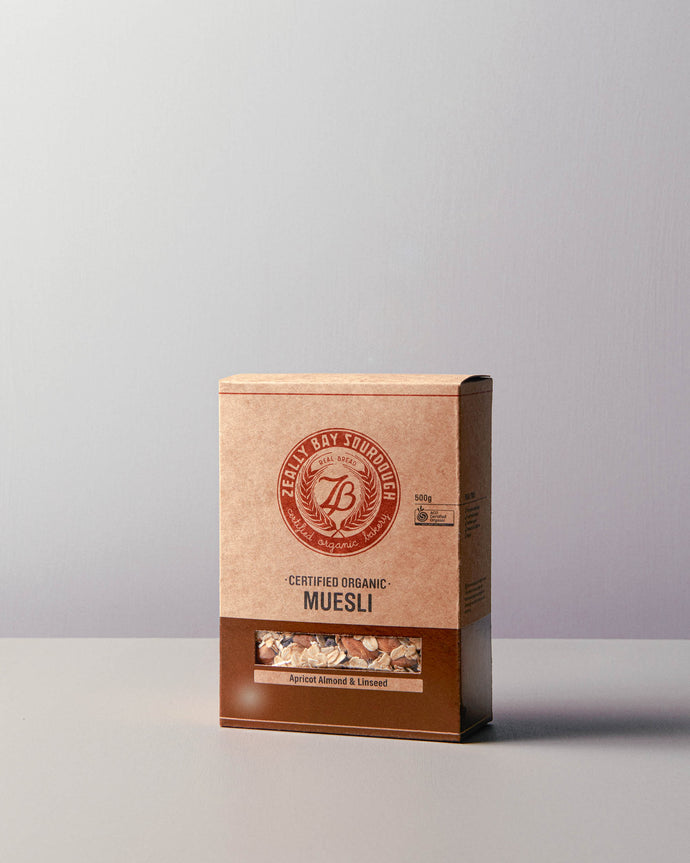 Zeally Bay Muesli Apricot, Almond & Linseed 500g
Zeally Bay
Regular price $11.50 Sale price
Certified Organic and Vegan
Free from sulphites and added sugar
Free from chemical traces and GMO ingredients
100 % Plastic Free Zero Landfill Packaging 
Zeally Bay's signature muesli is a tried-and-true recipe created by John and Jan in the early 80's for their Geelong cafe, Wholefoods Kitchen. Elegant in its simplicity and handmade in small batches using the best Certified Organically grown ingredients, this breakfast staple lends well to any accompaniment.
Premium Certified Organic rolled oats are at the heart of this blend, chosen for their smooth and creamy texture and hearty natural grain flavours. The Certified Organic sulphite-free dried apricots, sultanas and currants add natural sweetness while whole almonds, buckwheat and rolled gold linseed offer a nutritional boost and satisfying crunch.
Ingredients: Rolled oats*, biodynamic sultanas, currants*, almonds*, dried apricots*, rolled gold linseed*, buckwheat kernels*
*Denotes certified organic ingredients
About Zeally Bay: In 2007, the Farnan's realised a long-held ambition and founded Zeally Bay Sourdough, as an extension of the philosophies they had developed around organic and fermented food during the 80's/90's.
Zeally Bay Sourdough became Victoria's first and only 'certified organic sourdough bakery' hand-making 100% certified organic breads and muesli.
The coast of Torquay became the home of Zeally Bay Sourdough, allowing the family to continue their passions in life and work - surfing, home organic gardening, good food and of course, great bread!
Produced on the unceded lands of the Gulidjan people - Torquay