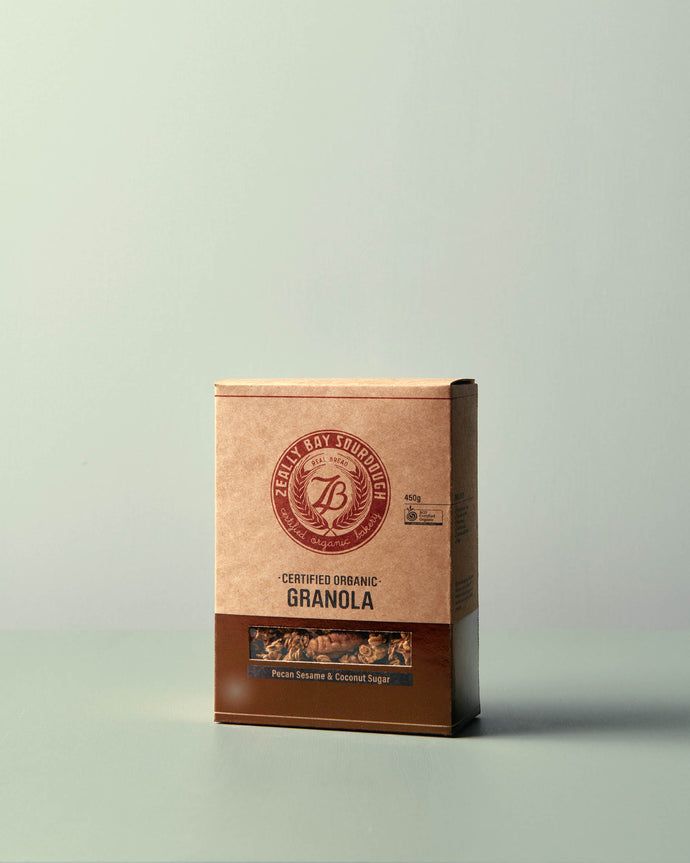 Zeally Bay Granola Pecan Sesame & Coconut Sugar 450g
Zeally Bay
Regular price $14.95 Sale price
Certified Organic and Vegan
Free from refined sugars, sulphites and oils
Free from chemical traces and GMO ingredients
100 % Plastic Free, Zero Landfill Packaging 
Salty, sweet, and nutty, this wholesome granola is likely to evoke obsession. Its base brings together premium Certified Organic rolled oats and millet puffs, with generous proportions of its undoubted stars – rich, buttery pecans, and sesame seeds that have been roasted in Zeally Bay's stone hearth oven.

Free from oils and refined sugars, it is sweetened with just the right balance of alternative sugars, including molasses and coconut sugar, which bring a caramel depth to its sweetness. Finished with salt flakes, a hint of cinnamon and ginger and baked until caramelised and golden, this blend is aromatic and especially moreish.
About Zeally Bay: In 2007, the Farnan's realised a long-held ambition and founded Zeally Bay Sourdough, as an extension of the philosophies they had developed around organic and fermented food during the 80's/90's.
Zeally Bay Sourdough became Victoria's first and only 'certified organic sourdough bakery' hand-making 100% certified organic breads and muesli.
The coast of Torquay became the home of Zeally Bay Sourdough, allowing the family to continue their passions in life and work - surfing, home organic gardening, good food and of course, great bread!
Produced on the unceded lands of the Gulidjan people - Torquay